level up to age 7+ beginner
Congratulations on your child becoming eligible to move up from our Age 4-6 Junior Magnus program to our Age 7+ Beginner program. 
Junior Magnus has provided the foundations for becoming a student within our youth black belt training program. Hundreds of students have leveled up from Junior Magnus to Age 7+ Beginner, I am excited that your child will do the same.
As an Age 7+ Beginner your child will have an expanded opportunity to continue growing as a Magnus Karate student. 
This information page has been designed to help you learn more about Age 7+ programming at Magnus Karate and make your transition from Junior Magnus to Age 7+ as simple as possible. 
Age 7+ programming is Magnus Karate's youth black belt training program. Students begin their journey at the Beginner level and gradually progress into intermediate-advanced level, youth black belt levels, and eventually full black belt courses. 
Designed as a progression based curriculum, students test quarterly (and eventually bi-annually) to advance to their next belt rank. 
All Magnus Karate Teaching Team members are direct products of our Age 7+ training program. Many of our support and teaching team members transitioned from Junior Magnus to Age 7+ also. 
schedule & Rates at age 7+
Current Age 7+ Beginner Flex Schedule Options: 
Monday: 5:45 – 6:30PM
Tuesday: 5:00 – 5:45PM
Wednesday: 5:45 – 6:30PM
Thursday: 5:00 – 5:45PM
*Note – Our schedule is set to change on August 22, 2022
(Inquire with Sensei to receive updated details)
Schedule FAQ: 
Q: Will this be my permanent schedule forever at Magnus Karate? 
A: No, the average time spent in Beginner is approximately 9 – 12 months. At that time your child will level up to Green Belt making them an intermediate level student. That level provides a similar schedule, but the time offerings will change based on days (Example – we flip the days when you are offered 5PM and 5:45PM classes for that level compared to Beginner). About two years into training in 7+ you will be leveled up to Brown – Black class where the schedule will change so that you can attend those offerings.
— 
Q: Will all of my classes now begin at 5PM or later? 
A: Yes, all Age 7+ classes will now be scheduled for 5PM or later depending on your current rank or class level. 
Extra! During school year months we will offer a Saturday morning class option for this group to add to your four class options per week. 
4:30PM or earlier start times will be used for Age 4-6 Junior Magnus students. 
---
Q: Can I use the schedule flexibly like I did in Junior Magnus? 
A: Yes, please schedule flexibly and use the schedule to your advantage to attend at an unlimited basis.  
Below indicates our current normal Age 7+ vs. Junior Magnus rates that we offer to new students.
Compare that to the discount you will be provided as a member leveling up.
Current Magnus Karate Normal Rates:
– Junior Magnus One Time Per week: $97 / month
– Junior Magnus Unlimited Attendance Per Month: $139 / month
– Age 7+ Unlimited Attendance Per Month: $159 / month
*Compare to* 
Your Age 7+ Rates – Junior Magnus Level Up Discount:
$139 / month – unlimited attendance per month
Rates FAQ:
Q: Why is there is a $20 price increase from Junior Magnus unlimited to Age 7+ unlimited? 
A: Age 7+ is seen at a higher value of training than Age 4-6 Junior Magnus. This programming is valued normally at $159 per month. The $20 increase from Junior Magnus unlimited to Age 7+ covers the cost of increased class times (30 mins to 45 mins per class).  Being a Junior Magnus member who leveled up, you are discounted to $139 per month. 
—
Q: Is there a one time per week option in Age 7+? 
A: No, one time per week attendance is considered part time or "rec" based attendance is strongly discouraged at Age 7+. 
We offer only one unlimited rate per month. 
—
Q: Is there a discount for being a Junior Magnus member leveling up to Age 7+? 
A: Yes, you are being provided a $20 discount per month compared to a new Age 7+ enrollment. (Meaning a student is already 7 or older entering into our Age 7+ curriculum).  
See comparative rates above the FAQ of this section. 
Immediate Age 7+ Advice:  
All Age 7+ programming features unlimited attendance enrollment – families utilize our flex schedule (see above). 
Speaking from experience – in order to see the best results I highly suggest all students attend class at a minimum of 6-8 times per month. Anything less than 5 per month generally leads to a confidence loss as the student falls behind in curriculum and feels a gradual distance from the training group. 
You can always attend more than 8 classes per month, that range is my suggestion for confidence development in this specific program at our school.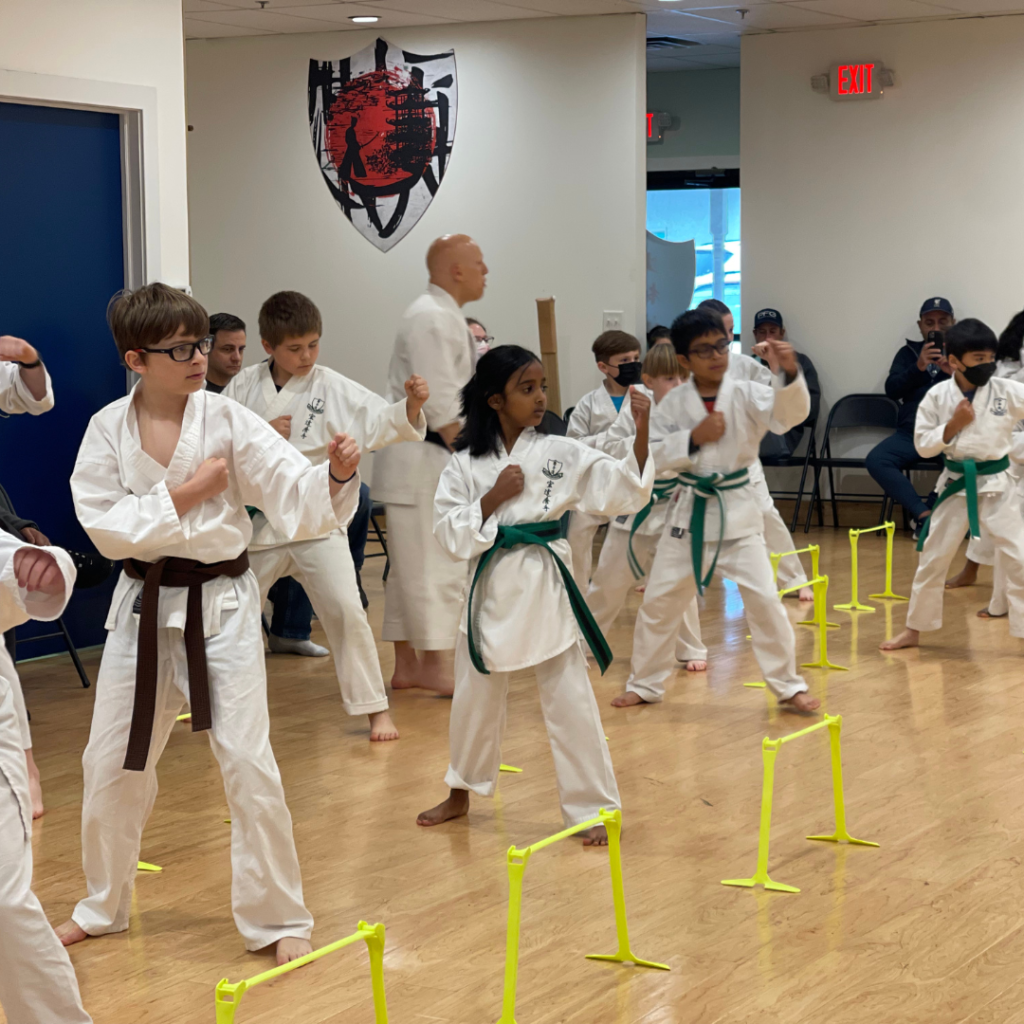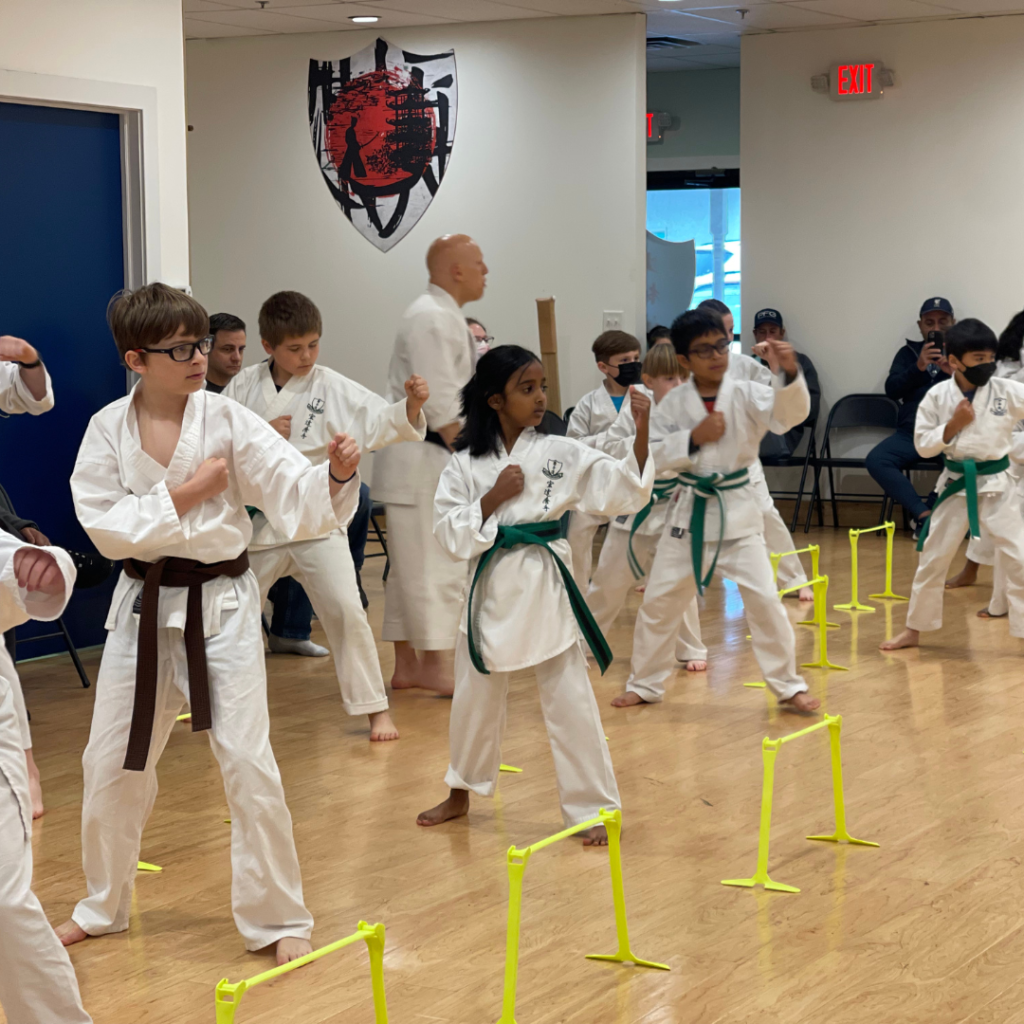 Belt testing is an exciting process for all Age 7+ students. 
All in all there are nine belts to earn before a youth black belt test (which generally takes a student 4 to 5 years to become an eligible test candidate). 
Students are invited to belt tests through private invitations. 
They become eligible to test for new rank based upon attendance and Sensei's recommendation to level up (based upon technical readiness). 
The first two years of black belt training offer an opportunity to test (level up) every 3 months.
Our belt tests are scheduled in quarters and show up on events calendars on our portal and announced through email blast reminders. 
Invitations to the test are always based upon class attendance (we track attendance using the registration app – if a student attends anywhere between 12 – 14 classes from their previous test to the invite period which occurs one month before the test, they will be eligible based on attendance). 
Regardless of attendance, Sensei has complete discretion to invite a student to a belt test based upon technical or personal readiness to take the test. 
When a student becomes a brown belt in Age 7+ (approximately two years after beginning Age 7+ Beginner) test cycles are increased to 6 months apart. At black belt candidate (brown with black stripe) a student will train and prepare for youth black belt over one year of time before taking the test. 
The test invitation will come in a private email and will provide the following details: 
1. Test Date
2. Test Group Time (based upon your child's age and rank)
3. Spectator Information
4. Test Registration Fee: Each test features a $50 registration fee at Age 7+ programming. 
Belt tests are special events and are not seen as an extension or inclusion of your monthly tuition at Magnus Karate. That rate covers new belts to be purchased, special event time (or make up test time) which is not included in monthly tuition, and Sensei and teaching team members who are there to run the event. 
Absolutely! 
We invite up to 3 parents / guests per participant to each belt test. Seats are placed inside of the dojo for you to sit and enjoy the test process. 
*Sensei will not facilitate a test for any student who does not have a parent available to watch the test. Taking a belt test is seen as an opportunity to elevate and he believes all parents / guardians should be able to share in their children's success.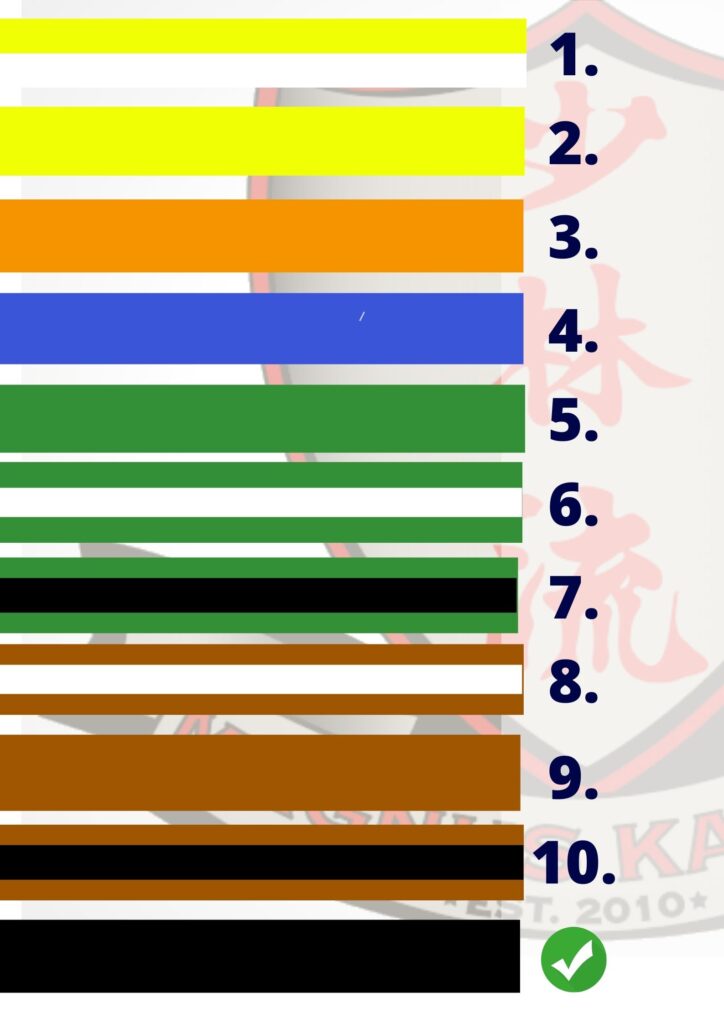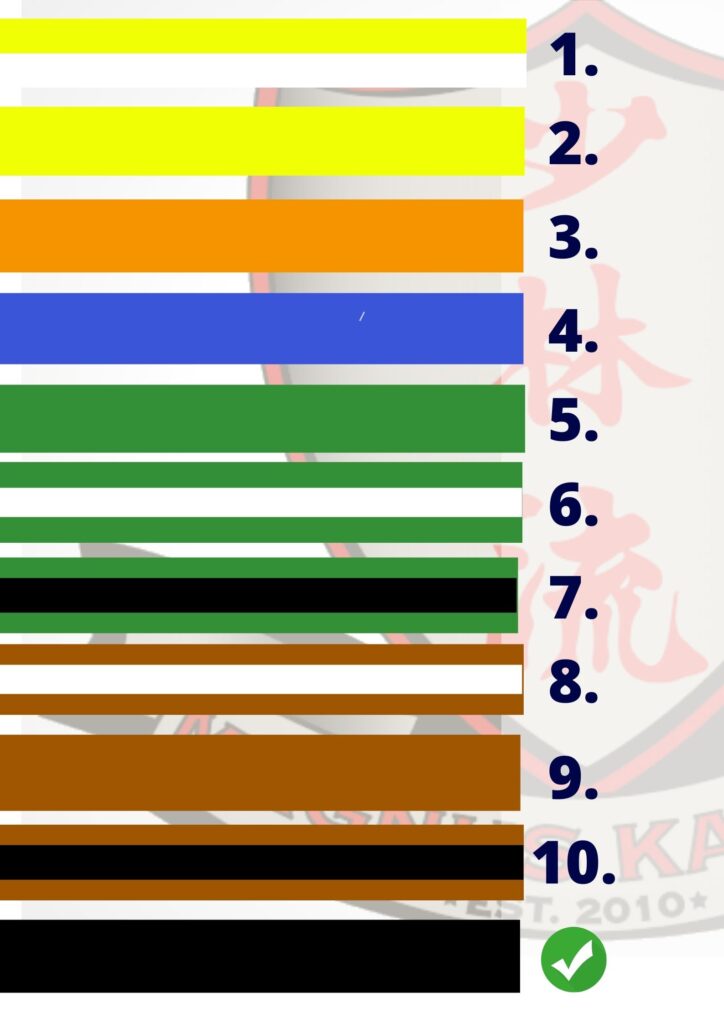 Students receive their belt promotions at Promotion Day events - Sensei demonstrates every time!
Provided are a series of brief explanations behind the major units contained within our Age 7+ programs. 
As a Junior Magnus student your child was provided with the foundations and introduction techniques to all of these units. Now as an Age 7+ student they will learn how to progressively become independent within each skill set they learn. 
extra training opportunities and
special evnets
Age 7+ brings a great deal of special event opportunities monthly. 
We regularly offer free workshops to teach students about sparring, grappling, weapons, and kata practice. 
Along with free offerings you will see on a monthly basis, Age 7+ has a large amount of regular school year and summer clinic intensives and workshops. 
We also offer a ton of community development events such as our popular themed Parents Night Out Events which pop up September – June. 
You will notice these extra offerings on our events calendar and weekly email announcements. 
leadership team, Magnus Grappling, and Magnus Weapon Arts
leadership team,
Magnus Grappling, and mangus weapon arts
Age 7+ has the potential to include multiple future opportunities such as membership onto our Leadership Team and inclusion into our Magnus Weapon Arts programming.
The Magnus Karate Leadership Team is the strongest additional program we offer at Magnus Karate. 
Students can qualify for a select invitation to Leadership Team at Brown Belt level in Age 7+. You will notice many Leadership Team members providing volunteer support in all Junior Magnus and Age 7+ classes. 
Leadership Team has produced all of our official teaching team members. (This program is an instructor training pipeline). 
Tons of Age 4-6 students continue on to become Leadership Team members and may have grown to become teachers at Magnus! 
*Monthly Grappling, Sparring, and Weapon Arts classes will become available to you at the Age 7+ level – you will see them monthly on your special events offerings. 
faq - moving up to age 7+
Not immediately. 
Magnus will send out email announcements regarding any needed equipment (when and if the time comes in the future). 
Example: Sparring Gear Packages, Weapons, Striking & Kicking Equipment. 
No.
Attending one time per week is not recommended. One time per week is considered part time training, which is highly discouraged.
Based upon many years of experience we have found that to receive the most benefits from what we do in Age 7+ all students should aim to attend class anywhere between 6, 7, or 8 classes at a minimum. 
Attending class anywhere between 3-5 times per month consistently will generally lead to confidence loss overall and eventually lead to the student discontinuing based upon feeling behind the group and all content categories. 
Extremely prepared. 
Junior Magnus class has provided the direct foundation required to be immediately successful at this level. 
A blend of our teaching team members and Sensei. 
Essentially the same teaching team and feeling from Junior Magnus class.
Nothing really changes here.
Our Age 7+  curriculum is not designed for part time attendance. 
Historically, we have seen 100% of part time participants discontinue before reaching black belt. 
Magnus has never had a part time Age 7+ participant achieve longevity in practice – which is a goal at our academy for students at this level. 
To provide best quality practice and programming, Magnus highly discourages part time practices as your main form of membership. 
Junior Magnus class is a very instructor driven environment and the curriculum has been designed by Sensei to allow students to see success as part time students. The Age 7+ curriculum will double in content and feature a great deal of partner interactions. 
If using our schedule part time due to a seasonal sport (example – it's baseball season, we can only make it one time per week for two months) – this should have no impact of confidence or progression. 
If attending at an average of one time per week for 3 months or longer – most likely results in a full confidence loss in the activity therefore leading to the student discontinuing. 
Absolutely. 
Using our schedule flexibly is always encouraged. 
If your child is participating in a seasonal sport and you need to use the schedule to attend when you can – this should have no significant impact on progress. 
Historically speaking – Students have not been impacted when changing routine for a small amount of time (2 months).
Sensei will work with you directly on this. 
Please do not begin bringing your child to Age 7+ classes without Sensei recommending when to do so. 
Absolutely! 
Send Sensei an email at [email protected] or text / call at 610-890-3656.