CLAIM YOUR EXCLUSIVE WEB OFFER
Magnus Karate is a community on a mission to build a stronger future by empowering our members to get the most out of life. Self esteem, character development, and the cultivation of leadership and communication skills through every stage of life are at the core of every class. Young people will find their voice, their value, and their unique role as a leader of tomorrow. Adults will gain self confidence through realistic self defense training, and build a healthy body and mind. Reach out and let's explore how Magnus can help make you or your child stronger, in all areas of life.
CHAT WITH US NOW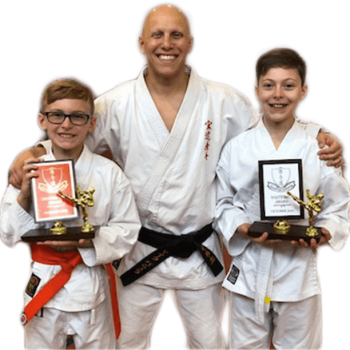 Mike Pannulla, Sensei is the owner and head instructor of Magnus Karate located in West Chester, PA. A lifelong dedicated student of the martial arts, Mike has been practicing actively and consistently for over 26 years.
READ MASTER PANNULLA'S STORY
TAKE THE Magnus Karate JOURNEY
Junior Magnus (Age 4-6) is our developmental readiness program designed to prepare students for Age 7+ black belt training while also providing age appropriate instruction and a great introduction into martial arts practice as seen at Magnus Karate.
Age 7+ Youth martial arts
Take the Magnus Karate journey and become a black belt! Our youth black belt training program is organized in four grouping categories-beginner, intermediate, pre-black belt, and youth black belt classes our students are provided excellent lessons every class.
Our adult classes are beginner friendly and provide multiple class options per week for the participant who is seeking to stay active, learn principle based skill sets, and feel challenged.
April exclusive intro web offer: One week and a uniform for $29

providing scholarships to our students
The Magnus Foundation is a reflection of our commitment to empowering tomorrow's leaders, and provides scholarships to graduating seniors in our community who are pursuing higher education. With a diverse blend of funding both from within the Magnus community, as well as from community partnerships, we passed a very proud milestone in awarding our first round of scholarships to student leaders in June 2020. These students are outstanding leaders both in and outside of Magnus Karate, and will continue to prestigious universities in the fall. Through the Magnus foundation, we look forward to contributing to the professional aspirations of the young adults in our community, and helping to build the bedrock of our future.
Get the same top-quality Magnus Karate martial arts training from home with our rich digital learning platform.
Online video content library…YES
Follow along instructional courses…YES
Parent and student resource center..YES
Junior Magnus, Beginner, Green, Brown, and Black Belt curriculum modules, courses, lessons…YES
Youth and adult belt testing and requirements and tips / suggestions…YES
Magnus Weapon Arts Lessons and Certification…YES
Leadership Team Training models / theory…YES
Instructor training program and certification courses…YES
Qigong and meditation…YES
Martial conditioning lessons and video library…YES Class playbacks and reviews…YES
The Leadership Team is Magnus Karate's premiere youth experience. Founded in 2013, the leadership team is the embodiment of our commitment to the future, providing crucial leadership, public speaking and communication skills to participants. With our unique methodology, your child will make tremendous gains in their social confidence, and find their unique voice in the world.

Students participate in weekly, interactive training where they lead their peers in a structured format in real time, attend regular workshops, perform community service, and assist in live classes with younger students.
RESPONSIBILITY: Sed sit amet commodo arcu, nec molestie nunc. In hac habitasse platea dictumst. Phasellus accumsan ante id dolor tristique scelerisque. Maecenas eu porttitor velit. Nulla sed nibh posuere nunc facilisis egestas ac eget dolor. Donec a urna non enim mattis dapibus. Vestibulum placerat arcu ac ante dapibus accumsan. Nulla facilisi. Mauris urna metus, dapibus non velit eu, facilisis pretium arcu. Ut porttitor, urna vitae volutpat efficitur, tortor libero pretium elit, eget ornare mi nulla at velit. Sed quam odio, consectetur a iaculis non, suscipit vel augue
NEXT VALUE: COMMUNICATION
April  exclusive intro web offer: One week and a uniform for $29